Training that Exceeds Industry Standards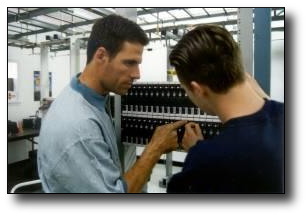 TOP PERFORMANCE IS CRITICAL to developing a network of satisfied clients. To facilitate the highest performance level, we have developed a program that generates specialists who can provide solutions to any problem... efficiently, effectively, and timely. LightWave's corporate headquarters includes a high-tech, state of the art training facility with a mock central office and advanced labs where simulations are used to teach the latest technologies.
Our Career Technical Education Center (CTEC) has sourced exceptional training providers from both public and private institutions to develop specific programs addressing the most intricate of client requirements. Digital video computer systems create interactive training, using the most current installation techniques and equipment to keep pace with ever-changing technologies. Safety is a top priority at LightWave. Our safety program is modeled on OSHA Standards.
© 2003 - 2004 LightWave Telecommunications, Inc.